Adding a USB3 capability to a Dell PowerEdge Server is easy, but there is a lot of confusion about the subject.
No internal power connectors for a USB 3.0 PCI Card
The problem that most people come up against is that nearly all of the USB 3.0 cards require either a SATA power cable or a 4-pin Molex connector to enough power to drive host powered devices.  Many USB 3 PCIe cards require additional internal power to drive devices. Dell Rack mount servers do not have any spare power inside the machine so you cannot easily satisfy the power requirement.
HighPoint RocketU 1344A USB 3 Controller
The key differences with the HighPoint card are:
It is a PCIe x4 card and can supply up to 25W of power (most add-in cards which are PCIe x1 and provide only 10W of power).
It also has 4x Dedicated 10Gb/s USB 3.1 ports so it is great if you are copying out large backups to external drives etc.
No requirement for an internal power connector.
UASP which gives optimal performance if you have a UASP device attached.
It is a lot more expensive than the competition but you get what you pay for!
High Point RocketU 1344A PCI-Express 3.0
PCIe 3.0 x4 Host Interface
4x Dedicated 10Gb/s USB 3.1 ports
Designed for industry standard USB devices
Fully backwards compatible with USB 1.0/2.0/3.x devices & peripherals
Supports Windows 8 & Later, macOS 10.9 & Later, and Linux
Installing a USB 3.0 Card into a Dell PowerEdge
So, for the sake of clarity I will list the kit that I used that worked well for me:
As you can see from the screenshot below, both the drives I connected with these enclosures were detected as UASP compliant: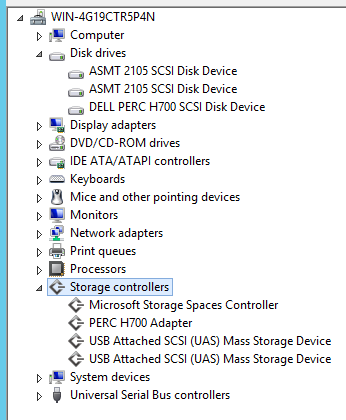 Performance of USB 3 vs USB 2
I did some really basic testing by copying a Windows Server ISO to a Samsung Portable SSD T5, it took 16 seconds to complete with the USB 3 card: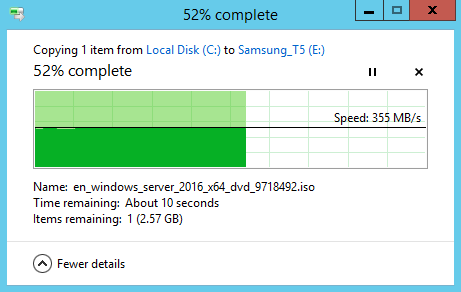 I copied the same file to the Samsung Portable SSD from the built in USB2 ports and it took 2 minutes and 57 seconds to complete: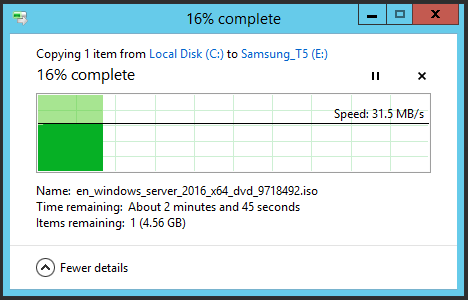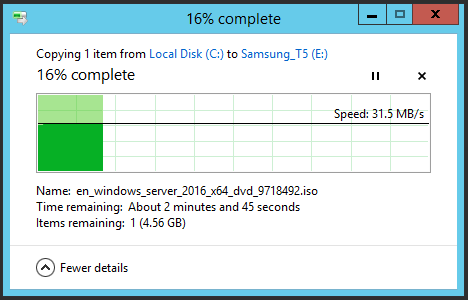 This is the portable Samsung Portable SSD drive I used for testing. It is tiny, smaller than a credit card!
Samsung Portable SSD T5
SUPERFAST READ WRITE SPEEDS: SSD with V-NAND offers ultra-fast data transfer speeds of up to 540MB/s (up to 4.9x faster than external HDDs); Ideal for transferring large-sized data including 4K videos, high-resolution photos, games and more
COMPACT AND PORTABLE DESIGN: Top to bottom shock resistant metal design fits in the palm of your hand and easily slides in your pocket or purse to take work and entertainment on the go
SECURE ENCRYPTION: Optional password protection and AES 256-bit hardware encryption keeps your personal and private data more secure
SEAMLESS CONNECTIVITY: Includes USB Type C to C and USB Type C to A cables to connect to PCs, Macs, smartphones and other devices
WARRANTY AND COMPATIBILITY: 3-year limited warranty; Requires Windows 7, Mac OS X 10.9 (Mavericks), Android 4.4 (KitKat), or higher; Older versions of the Windows, Mac and Android operating systems may not be supported
And here is the Highpoint USB 3.1 HBA Installed in a Dell PowerEdge T320: