Although it is possible to assign many email aliases to a single account in Office 365 it is not possible to send from these aliases using Outlook and be able to select that address when composing a new email.
There are two workarounds to this:
The first is to use a distribution group and assign yourself send as permissions to the group.  This procedure is well documented here: http://help.outlook.com/en-us/beta/ff852815.aspx
The second, which is the method documented in this post is to set-up a second mail account within outlook and use the account to send mail via the Office 365 SMTP servers.  This will give you the ability to easily select the alias using the "From" button when composing a new email.
How to setup a second account in Outlook to send from an email alias in Office 365
Before you can proceed, you need to find your SMTP settings.  To do this, login to Outlook Web App, click on the little cog in the top right of the screen to bring up the options menu and click on options.
This will bring you into your account options page:
Click on "Settings for POP or IMAP access…"
I expect your settings will be the same as mine, which means your Office 365 SMTP Server will be smtp.office365.com.
Before proceeding ensure you have added the alias that you want to send from to your Office 365 account.  Otherwise it will fail when you try to send a message.
This example is done using Outlook 2013, but the procedure is very similar for all versions.
Go to "File" and then "Account and Social Network Settings".  Click the "Account settings" button and choose "Account Settings".
This will bring up the list of your accounts, click new:
On the account Setup screen, select "Manual setup or additional server types"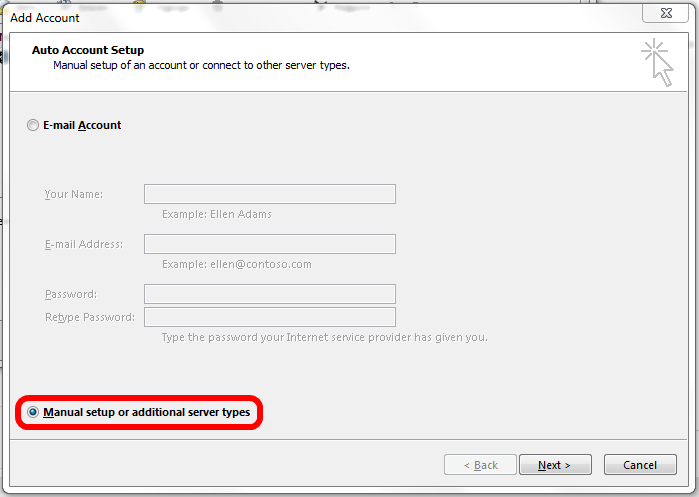 On the next screen choose "POP or IMAP" and then press "Next".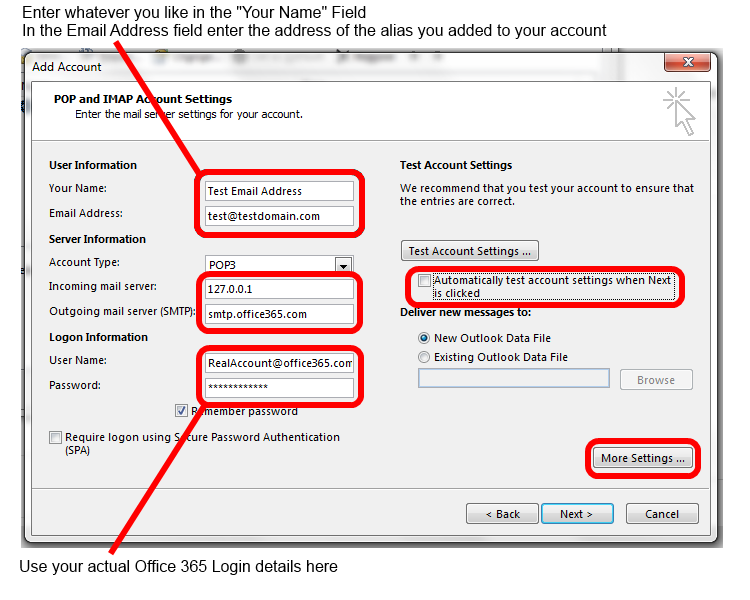 As the picture above shows, change the following settings:
"Your name" is the display name that will be presented to the recipient.
"Email address" is the address that you added to your account in Office 365.
Account Type should be POP3
Incoming Mail Server "127.0.0.1" (We don't want this account to receive email and we are going to remove it from the send/receive group later).
Username should be your actual Office 365 username, not an email alias.
Password should be set to your Office 365 Password
Untick the option "Automatically test account settings when Next is clicked"
Now click on "More Settings …"
Click on the "Outgoing Server" Tab and then tick the box "My outgoing server (SMTP) requires authentication"
Click on the "Advanced" tab and then change the "Outgoing Server (SMTP)" setting to 587 and the encryption type to "TLS".
Click OK to return to the previous screen and then click next to add the account.  On the next screen click finish.
When the account was created Outlook created a new PST file for the new account.  We don't need that as we are not going to be receiving any emails on this account.  You should now be back at the E-Mail accounts screen.  Click on your new account to highlight it and then click on "Change Folder" option.
Select your inbox from your main Exchange account.  Click OK and then Close.  The new PST file will still be in your folder list, but you can remove it by right clicking on it and choosing close.
Now your account is set-up and you will be able to send email from this address by simply selecting the from address when composing a new email.
Although you are now in a position to send emails using this address there is one additional step to ensure that Outlook does not attempt to receive email.
Click on the "Send / Receive" tab and then click on "Define Send/Receive groups"
In the Send/Receive Groups settings, click on "Edit".  Select your newly created account and untick the box which says "Include the selected account in this group".  Like the following picture:
Hope this helps, leave a comment if you need any further help.