I recently read some documentation on the Gradwell website which detailed how to initiate calls via the web:
http://www.gradwell.com/support/kb/article.php?id=159
I wrote a powershell script to test the system and it worked well, but I didn't really have a practical use for dialing from the command line. Yesterday I was by chance reading about Extending the Internet Explorer Context Menu.
I decided to put together a quick bit of code that would allow me to initiate calls directly from Internet Explorer to my Gradwell extension, and it works really well! I ditched the original Powershell version in favour of javascript because it made the solution much neater.
To make this work for you need to setup an authentication token for your extension on the Gradwell VoIP control panel first. Make a note of your extention and authentication token.
Download this HTML File (right click – Save Target as) and store it locally somewhere on your machine. Open the file for editing and modify with your own extension number and authentication token:

Now we just need to create the internet explorer context menu, create the following registry key:
[HKEY_CURRENT_USER\Software\Microsoft\Internet Explorer\MenuExt\&Gradwell Call]
@=REG_SZ:"C:\some\path\to\View\DialGradwell.htm"
Contexts=REG_DWORD:10
You will need to change "c:\some\path\to" to the actual folder where you saved "DialGradwell.htm".

Open Internet Explorer again and highlight some text or a link and right click and you should now have the option to call the number directly from your browser: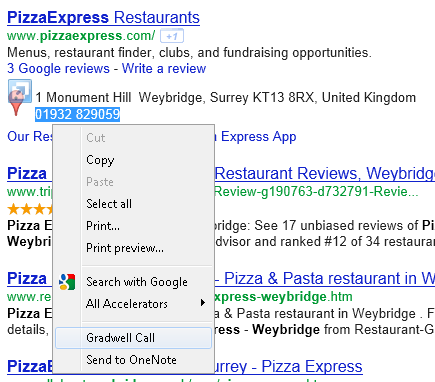 If you have done everything right, simply click on the "Gradwell Call" context menu option and your phone should start ringing right away. Answer the call and you'll hear the ringing of the destination number right away.
I might see about doing the same thing for Chrome and Firefox.