Having played around with the Gradwell API a little bit I decided to write a little addin for Outlook 2010 to make calls and send SMS messages directly without having to use my handset.
The add-in has two methods of initiating calls:
Right clicking on a contact in Outlook will bring up a list of all the numbers associated with that contact, which you can then select and call, as below: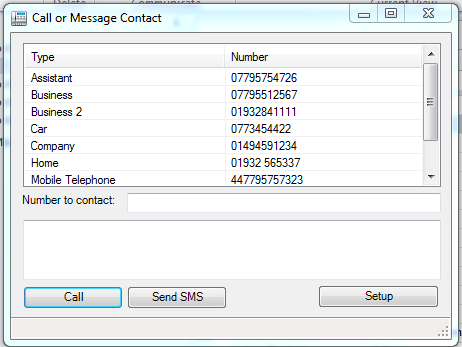 Or you can choose "Communicate with Gradwell" from the add-ins ribbon bar:

Which will bring up the same dialog box but you will have to enter or paste a number in to the "Number to contact" textbox. The program will automatically strip any characters that the Gradwell API cannot accept – so you should just be able to press the call or SMS button and the action will take place.
Before you can make calls you have to setup your Gradwell call and or sms authentication tokens, which can be done from within your Gradwell control panel. Once you have your authentication tokens you can click the setup button within the add-in and you can enter the details as appropriate, your settings will be saved to your local registry:
Please note that when entering the SMS Originator number it must be a number associated with your account and entered in full international format, e.g. 441932565337.
More information on the Call and SMS APIs which this addin uses can be found on the Gradwell site:
http://www.gradwell.com/support/kb/article.php/?id=159
https://support.gradwell.com/entries/23150896-Sending-SMS-messages-from-your-VoIP-account
Hope that other Gradwell users find this useful, you can download it from here: