Adding a USB 3 PCIe card to a Dell PowerEdge Server is easy, but most USB 3 PCIe cards require an internal power source, and Dell servers do not have any.
The HighPoint RocketU 1344A PCIe card works perfectly with Dell PowerEdge servers and does not require any additional power source. I've used it on many times and not a problem.
It is a PCIe x4 card and can supply up to 25W of power
(most add-in cards which are PCIe x1 and provide only 10W of power).
It has 4x Dedicated 10Gb/s USB 3.1 ports..
It is more expensive than many USB3 cards, but I have found it to be very good.
High Point RocketU 1344A PCI-Express 3.0
4x USB 3.2 10Gb/s Ports
PCIe 3.0 x4 Host Interface
Driverless Installation: Native XHCI Support
Fully backwards compatible with USB 1.0/2.0/3.x devices & peripherals
macOS, Linux & Windows
I did some testing by copying a Windows Server ISO to a Samsung Portable SSD, it took 16 seconds with the USB 3 card:
The same file from the USB2 ports took 2 minutes and 57 seconds to complete: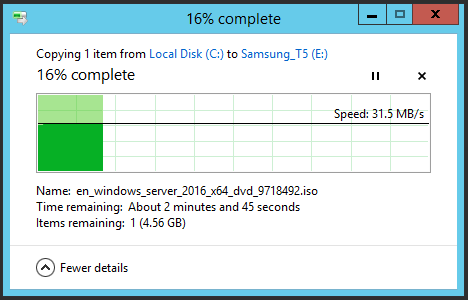 This is the Samsung SSD from Amazon I used for testing. It is tiny, smaller than a credit card!
Here is the card installed in the server: