Dell OpenManage Server Administrator can execute an application when a fault is detected in the hardware, unfortunately there is no built in e-mail support, so this PowerShell can send the email for you without the need for any additional software.
The script will:
Send an email to a specified recipient.
Include information about the system from "omreport chasis info".
Attach the System Alert Log to the email.
How to install the alert script:
Extract it to a folder on your system, e.g. "C:\Script"
Edit the variables at the top of the script to configure your email setup
Test Email functionality
Now that you have the script and have configured your SMTP options do the following:
Open PowerShell.
Run the script with the "testemail" parameter e.g:
c:\script\OMSA_Alert.ps1 testemail
Check your email, if everything worked you should received a test alert.
Setup email alerts from Dell OpenManage
Once the email function has been tested you can go ahead and setup the script to run from Dell OpenManage:
Open PowerShell
The script will generate batch files in the directory where you run the script. These batch files are what will be executed by OMSA.
Generate a test alert from your server
Here are some methods to test the script with a real alert:
Open the server case, this will generate a chassis intrusion alert.
If you have a dual power supply system, pull the power to one of the supplies and the server should report the power loss.
Trigger a temperature alert:

In OMSA go to:
System -> Main System Chassis -> Temperatures
Set the Maximum Warning Threshold a couple of degrees lower than the current reading.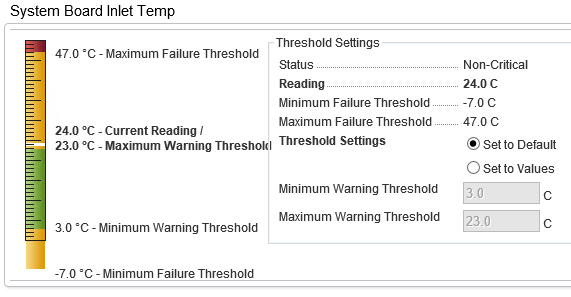 This is an update to a script I originally wrote in 2010 in VBScript. I then wrote a new version in Powershell. I've now updated it again to provide compatibility with Dell OpenManage 9.3. The omconfig command produced the error:
Error! No application exists in the specified path.
The original VBScript version is included in the download, and the updated PowerShell version.