In response to the comments posted my original post I have put together a new version of the Linksys SPA Personal Directory Manager.
This version has had some cosmetic tweaks, includes a proper installer and has the ability to upload the directory to many phones.
There is a small charge of £1.95 for this software.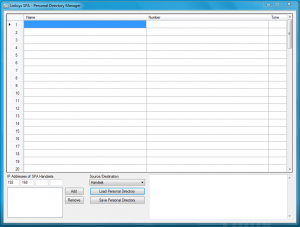 This has been tested and works with:
Linksys SPA941
Linksys SPA942
Linksys SPA962
Update: 19/07/2018:
We have now released an entirely new version of the management tool. Please see: